"Don't write a letter when you want to leave
Don't call me at 3 a.m. from a friend's apartment
I'd like to choose how I hear the news
Take me to a park that's covered with trees
Tell me on a Sunday please"
In one of my favorite Andrew Lloyd Webber songs, "Tell Me On A Sunday" (from a musical with the same title), the singer asks that their significant other bring them to a park on a Sunday to break up with them. (It's a bit of a depressing song, really…) Point being, there's something magically peaceful about a Sunday in the park that makes even the possibility of heartbreak more bearable.
This month's Diversity Chic trend, chambray, connotes a similar sense of ease. The material works for just about any season or occasion. There's a shade for every skin tone, and it pairs easily with other colors, patterns, and textures.
After we decided on the trend and a picnic theme for our shoot, I immediately suggested Mallon Park for the location. Only a few blocks from my house, it's one of my favorite places in Farmers Branch. The park's weeping willow tree is the perfect spot for a summer picnic.
For my picnic-ready outfit of the day, I chose a lightweight chambray skirt over this $15 peplum tank top from Old Navy. Topped off the look with my favorite Brixton 'Joanna' hat (now back in stock!) and a classic pair of Chucks. Easy, breezy.
When it comes to picnics, the more the merrier! We invited Jaclyn to join us for this installment. Not only is Jaclyn's style consistently on point, but she always knows exactly what flatters her petite frame. (As Shakespeare wrote, "Though she be but little, she is fierce.") Don't forget to visit Sevi, Valery, and Denise to see how they styled their chambray, as well. I think Georges Seurat would approve!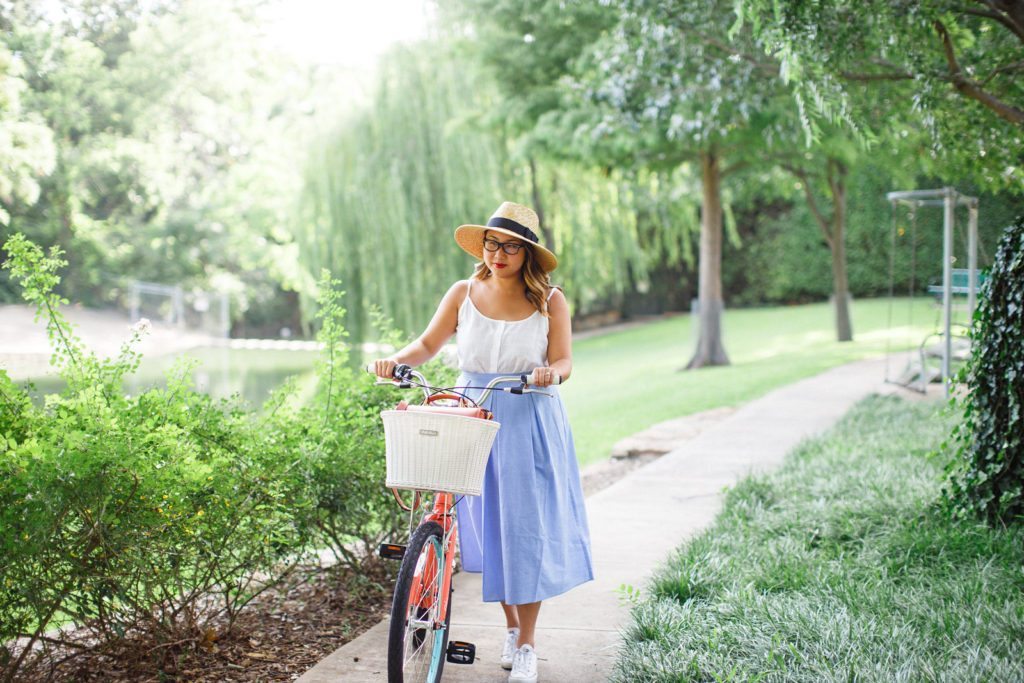 This post may contain affiliate links, which means I earn commission on purchases at no added cost to you.