"Summertime is always the best of what might be." (Charles Bowden)
Oh, summertime… the season for pool parties, hot weather, cold drinks, impulsive behavior, and enjoying the company of sweet friends. Unpredictable weather (it's pouring outside as I type this) kept us on our toes last month, and pushed our summery shoot back a bit, but as soon as that sun started shining– it was worth the wait. After sweating through the photo session, we cooled off in the pool and savored the beginning of what is sure to be an amazing summer.
This month's installment was a "backyard pool party" theme, and each of us interpreted it in our own way. Sevi showed off her Kaia body in an amazing one-piece suit with mesh accents, Valery rocked a classic warm-weather romper, and Denise looked like an adorable ice cream cone in her pretty pastels. I opted for a modest poolside ensemble, because I wasn't feeling quite bikini-ready. (I blame this solely on the recent discovery that Door Dash now delivers to my address ?) Keep reading for my outfit details or scroll down to shop the post!
The $33 "It" Dress
Jaclyn introduced me to this amazing(ly affordable) apron dress from the Target x Who What Wear collection, and I just happened to grab the last one in my size at our local store. Fate? Perhaps. The length is perfect– the coverage of a maxi dress, but short enough that I don't need to hem it or wear high heels to avoid tripping over myself. It's flowy, flattering, and fabulous… and I've worn it almost every day since I bought it. (#sorrynotsorry) I may or may not have also gone online to purchase it in cream as well. Yes, it's that good.
Made in the Shade
The Prada sunnies I'm sporting in this shoot were rented through Ditto's "Endless Eyewear" program. For a $24/month membership, you can pick out a pair of designer sunglasses (or prescription glasses), keep them as long as you want, and swap them out for a new pair when you're ready! No need to ship the glasses back until you've received your next pair– so you'll never go without protection from the summer rays. Sign up with the promo code SDXENDLESS to get your first month free! ?
Hats Off to Summer
My favorite purchase of the season is this straw hat by Brixton. It's sold out nearly everywhere, but Zappo's still has every size in stock for less than $50. If your budget allows only one frivolous purchase for the summer, this hat should be it. As the wife of a headwear designer, I've worn many hats in my life (pun intended), but like Goldilocks' struggle, they were never quite right… until the Brixton 'Joanna' hat. Perfectly structured, with a classic black bow and ribbon, it's the finishing touch for any summer look.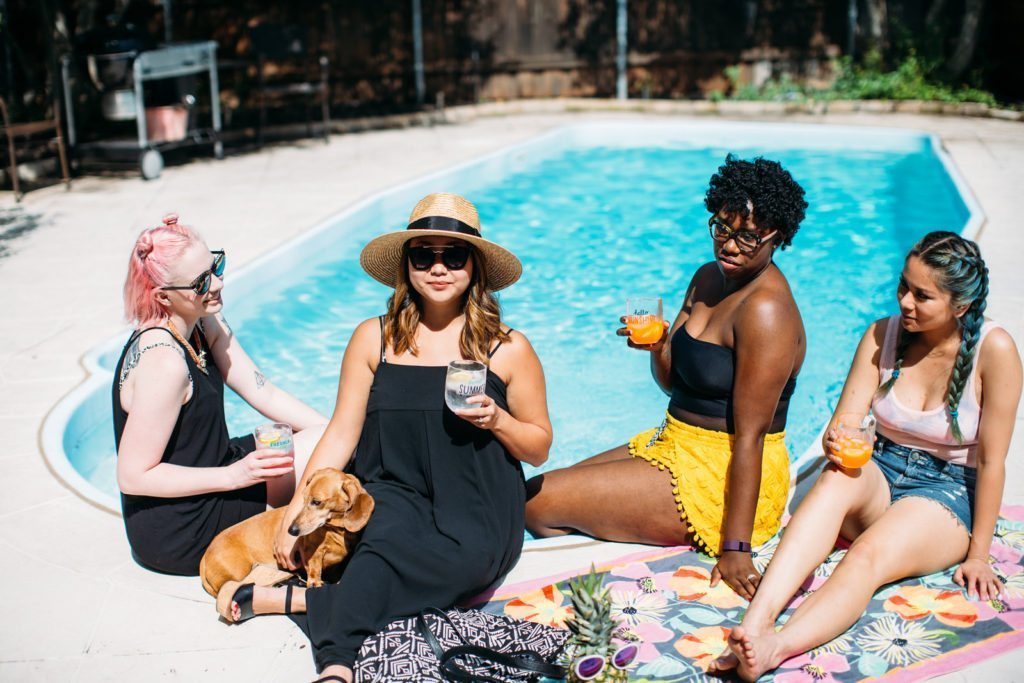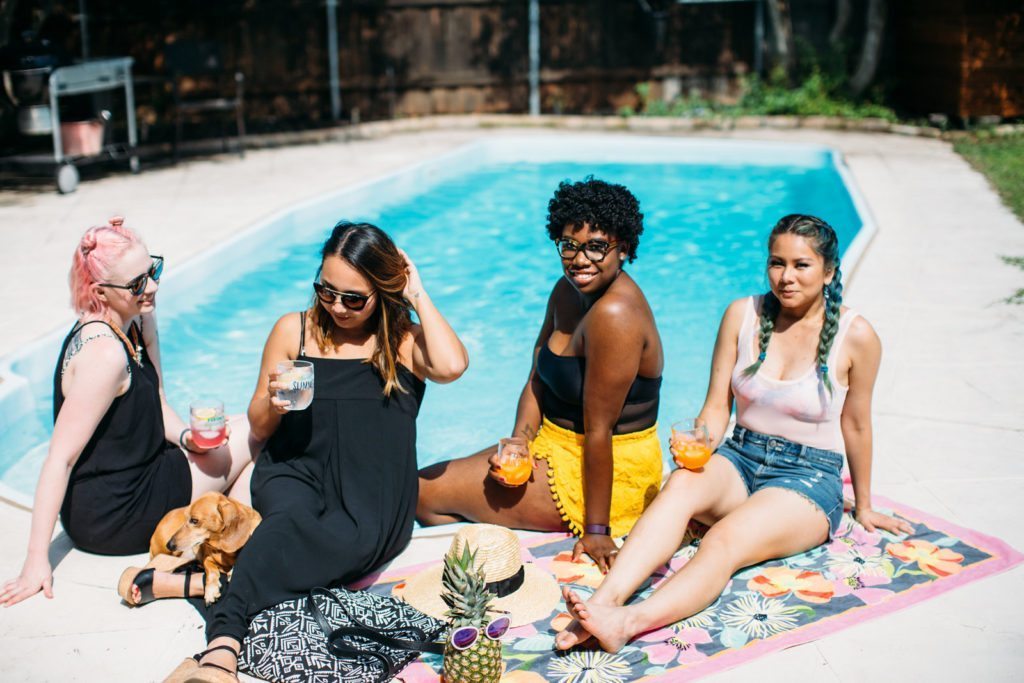 Don't forget to visit Sevi, Valery, and Denise for details on their summer pool party staples. Cheers!!
This post may contain affiliate links, which means I earn commission on purchases at no added cost to you.