I had been talking to my friends about hosting a party at our loft ever since we moved in last July. We also had separate conversations about our love of Escape Rooms. Somehow these two lines of conversation merged into the idea of having a murder mystery party. I had fond memories of doing murder mystery parties back in middle school with my theater friends. Wasn't quite sure how this would go over with an adult crowd, but – luckily – everyone was totally on board with the idea!
With the holidays coming up, we found the appropriately themed Murder at the Ugly Christmas Sweater Party. I liked this concept because it made costumes a little easier for everyone. (Who doesn't love a good old-fashioned tacky sweater?)
Preparation:
Everything needed for the game was included in a downloadable PDF from My Mystery Party. They offer Party-Ready kits for an additional cost, but it was easy enough to DIY. I "cast" each guest member and sent a list to the group with character descriptions and role assignments. There are required guests for the story and optional ones. Keep this in mind when casting, in case there are people who might not be able to make the party. For the day of, I printed out the game clues, put them in individual envelopes along with nametags for each guest. There were some additional printouts required, including the victim's sign, forensic evidence, and a template where each person could write down their notes and the final "whodunit" guess. Decorations were easy, since it was a generic holiday theme. I added a "Welcome to The Snowflake Lodge" message on a felt letterboard to set the scene.
Run-of-Show:
Everyone arrived around 6pm, and I had a casual dinner menu prepared. Instead of a formal sit-down meal, I wanted to allow enough time for the game and went with an easy taco bar for food. The game instructions suggested setting aside a separate time for dinner, but we just ate throughout the evening.
During the first round, each person has clues they are supposed to reveal (and some they can choose to keep concealed) by engaging in conversations with other guests and getting to know each other. During round two, one guest is mysteriously killed, and the real investigating starts. Hosts have the option of being surprised and following the storyline with everyone else, but I was worried about everything running smoothly and decided to read who the victim and killer were beforehand.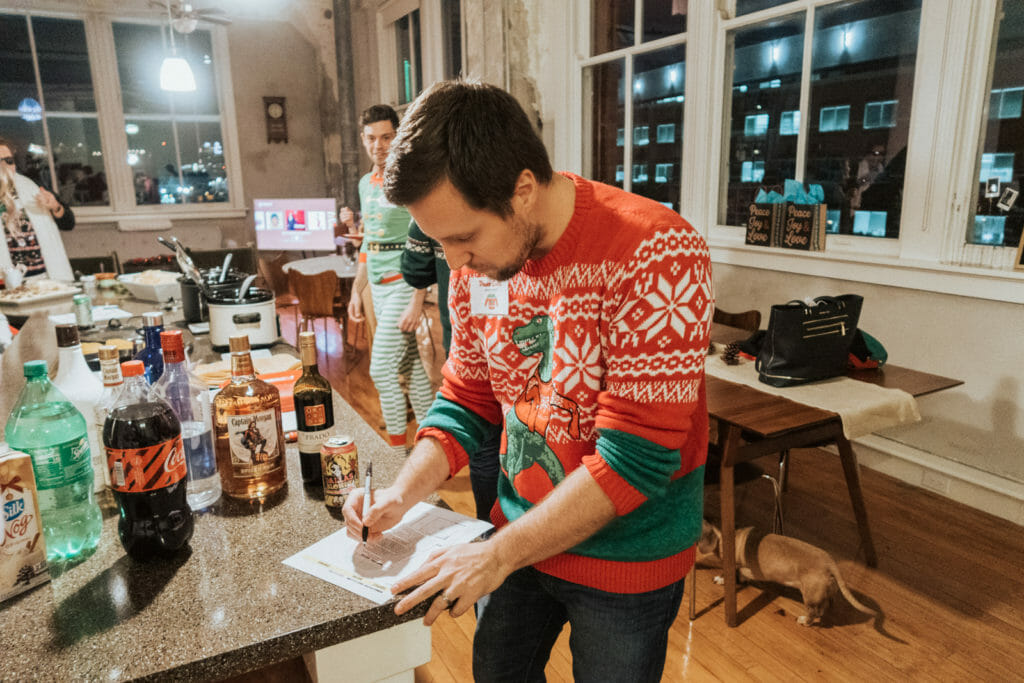 At the completion of round 2, everyone writes down their final guesses and turns them in to the host. Round three begins with each character reading their explanatory monologue until the murderer is revealed. I had a prize ready for the person who correctly guessed, but forgot the possibility of more than one person guessing the right killer. Luckily the two winners were from the same household.
Post-Party Reflections:
"Murder at the Ugly Christmas Sweater Party" was so much fun! We want to do another one (the Harry Potter-inspired story, Murder at the Toadwart Inn, sounds very intriguing). It was good to start with a smaller group and work out the logistics. The game is much more entertaining when everyone gets into their character, but you definitely don't need to be a professional actor for this to work.
At the end of the day, it was a fun excuse to get everyone together and escape reality for a little while. I loved seeing everyone's creativity shine through in their characters. I think this may need to become an annual holiday tradition!