In the depth of winter, I finally learned that within me there lay an invincible summer.
Albert Camus (1913 – 1960)
Long time, no blog. Pardon the unannounced hiatus, my hands needed time to thaw. It's been a rough season so far, but I am determined to make the most of my last winter in Chicago. Winter never fails to make loneliness more palpable. During the first winter with no roommate, boyfriend, or puppy to keep me warm, I have grown to appreciate my wonderful friends and family. My social circle has diminished in quantity this year as a result of the break up, but it truly is more rewarding to have a few loyal friends than a hundred fair weather ones.
JP and Micah, are literally my foundation and the other legs of the tripod keeping me standing. As someone who never really had any close guy friends in the past (who weren't gay), I've come to appreciate the opposite sex for their lack of unnecessary drama and inclination to stab someone in the back. I love these boys who have become the brothers I never had (okay, so I do actually have an awesome brother, but he doesn't really talk to me except on facebook) and the feeling of security in knowing that they would protect me at any cost, or at the very least, can talk a good game when trying to intimidate potential suitors who they fear might break my heart. And who else could I watch Gossip Girl and be interviewed on WGN making literary references to F. Scott Fitzgerald and Jane Austen when discussing the show with but my favorite "Upper East Siders"?
But we all know that there's a limit to what you can discuss with your male friends, and I would not have survived this quarter without my favorite pair of breasts and the woman whose body they are attached to…aka Lizette. When I measure my time at DePaul and how far I've come, I think about the first day Lizette and I were in class together: Fall quarter of my freshman year. How I saw this strikingly beautiful girl and thought- good lord I hate her for being able to come to class in a baseball cap and sweatshirt and still look like a model. And she is now my best girl friend in Chicago! She opened me up not only to the city's nightlife, but my own hidden confidence and wilder side. Beyond that, she is always there to commiserate and advise when I'm feeling less than ideal, and feeds me Doritos, hummus and pita chips when I'm hungry!!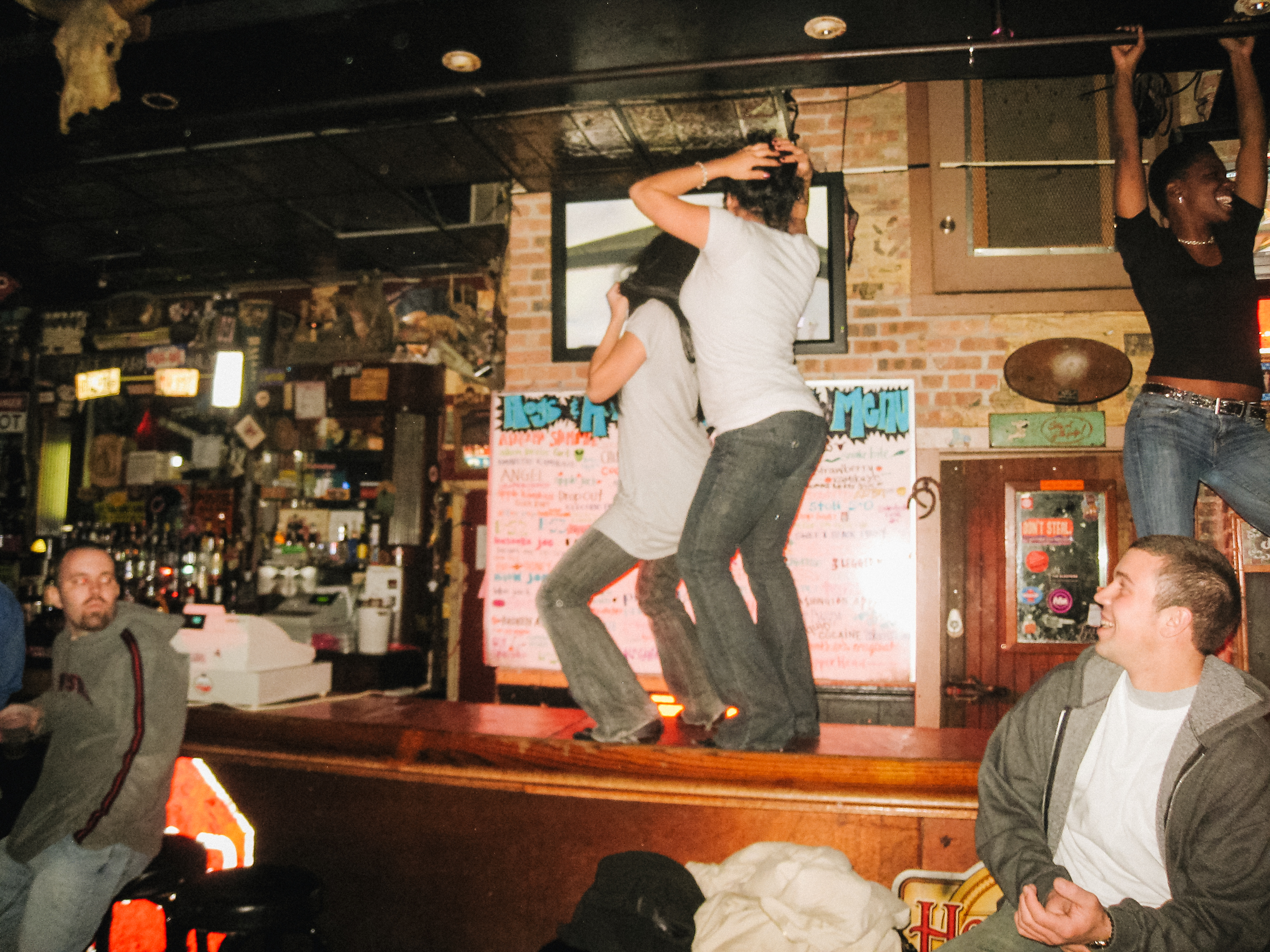 Friends like these make me worry how my life will be without having them around when I leave Chicago. But as Kahlil Gibran once wrote, "when you part from your friend, you grieve not; for that which you love most in him may be clearer in his absence, as the mountain to the climber is clearer from the plain."
Maybe it's the beautiful ice formations that the weather creates, but Winter is such a natural time for reflection. It's almost as if time stands still with the rest of the frozen world, and you can catch your breath (and then see it leave you as you exhale). It's a unique time where everything seems lifeless, but it lays the groundwork for the most lush season. But you have to remain cautious, because it's easy, at least for me, to forget the promise of spring, when you're surrounded with dark nights and painful elements. (Seasonal affective disorder, anyone?)
Winter has a tendency to remind me of death and loss. My uncle/godfather passed away at the beginning of my winter break freshman year, and this holiday season will be the first without my godmother who passed away earlier this year. My heart goes out to other people who are spending the holidays without their loved one(s), and breaks in the knowledge that one of my little high school freshman babies (now in college and not a baby, though I still feel incredibly protective of), who I have watched grow into a magnificently beautiful and incredibly strong woman over the years, will be without her mother who died of cancer this week.
It is unimaginable that God could let such tragedy affect people with such kind and compassionate hearts. Winter also reminds me of Christmas, and how for years I used to spend at least two nights a week at church… singing and believing. I guess I've never stopped believing, but I'm not as forgiving as my religion asks me to be. In these moments where faith is tested, and I want to renounce the existence of a merciful God, because who could allow pain of this magnitude… I am struck by the glimmer of hope that only something (someone) greater than ourselves could create–new life. In less than 9 months, I will be a first time Aunt!! Well, not by blood–but one of my closest and oldest friends recently found out the good news, and I plan on spoiling that child like no other.
This winter has given me a lot of time to think about how far my journey as been up to this point, how I've changed, but more importantly how I've remained true to myself. Last winter I was clinging to a lifeless relationship as tightly as Flick's tongue stuck to the pole in "A Christmas Story," both equally foolish. I had no direction in my life, and let my cynical side determine my attitude. I cursed the glacial weather for making my emptiness that much more pronounced. But, now as the next two quarters will speed by, and before I know it, I will be missing the days of ice skating and snow angels, I am grateful for every bitter, cold, lonely night I've spent in this city, because it shows me the inner warmth that I have, extricated from anyone else, and my ability to thrive even when circumstances (or weather.com) tell me I should give up and hibernate.