We drove back last night from our Christmas vacation in Marfa, Texas. Unable to let go of our time in the quirky, historic town, we fell asleep watching "Giant" and reminiscing about Hotel Paisano (where the film's stars stayed during production). I grew up loving Rock Hudson after watching "Pillow Talk" with my mom during one of our girls nights. After researching places to stay in Marfa, I discovered that we could book his suite at the hotel. Done and done! I had planned to publish a review of Hotel Paisano, but upon stepping foot in the Rock Hudson Suite, I knew it needed its own post.

The Rock Hudson suite is actually three rooms combined, including the one occupied by Rock Hudson during the filming of Giant. It is the largest suite in the hotel and located directly across from Elizabeth Taylor's. Guests can stay in her room as well as James Dean's.
Living Room, Dining Table, Kitchen
The suite features a spacious living/dining area, wet bar, and small kitchen. We felt right at home watching T.V. on the cozy couch, which is a sleeper sofa if you have extra guests. The kitchen is very convenient if you happen to visit Marfa during the week when most restaurants are closed or want to save money by staying in for some meals.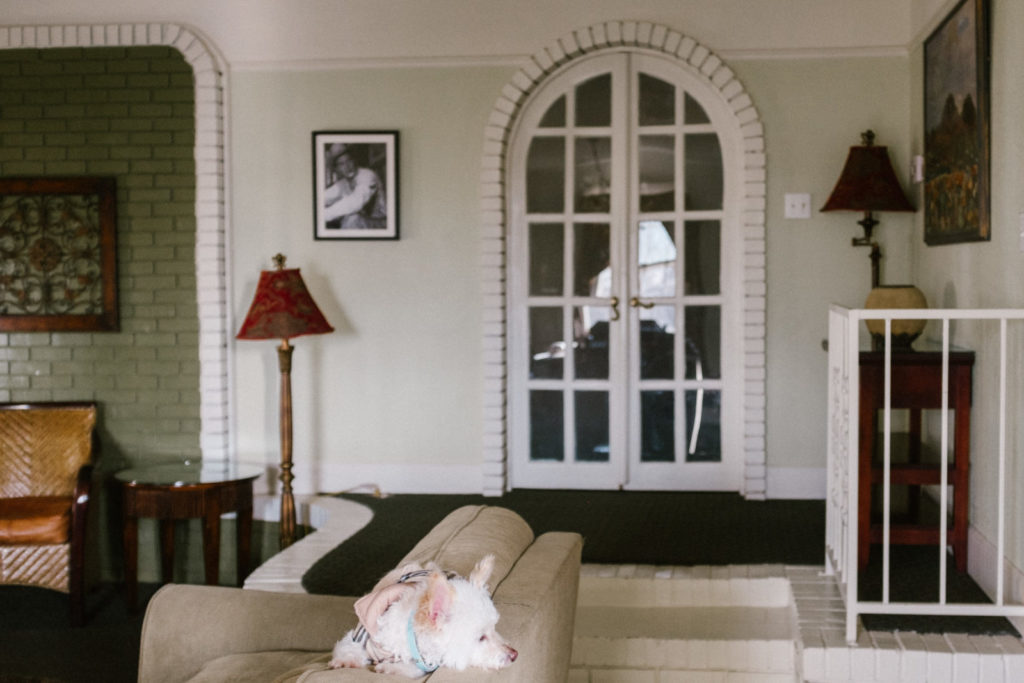 Bedroom and Sunroom
This suite offers an elevated bedroom and comfy king-sized bed with pillow-top mattress. Zeus was a huge fan of the bed, and loved taking naps on top of the floral comforter. It also has a full bath and adjoining sunroom. I fell in love with the exposed brick and old-fashioned writing desk. It was a great spot for editing photos while enjoying views of the rooftop terrace.

The Rooftop Terrace
This was our favorite part of the Rock Hudson Suite. A HUGE private balcony patio furnished with outdoor dining furniture and sitting areas. We ended up ordering most of our meals to-go so we could bring them back to the terrace. I'd love to visit Marfa again with a group of friends and enjoy a cocktail party out there. It seemed like a little too much space for just the two us (plus Zeus). I would argue that it was worth it, though, for the breathtaking sunset views!